Cosmetic Dentistry
Composite Bonding
In terms of repairing dental imperfections, masking of discolorations, or the closure of gaps between teeth, a dental bonding procedure is considered one of the most effective, economical, and quickest methods of care. Unlike porcelain veneers or ceramic crowns, which are necessary to conceal more significant defects, a dental bonding procedure is a minimally invasive way to transform a less-than-perfect tooth into one that appears flawless.
Bonding Procedures Restore The Look And Integrity Of Your Smile
At Picture Perfect Smile, we use the latest generations of dental materials and composite resins to perform bonding procedures that restore tooth structure lost to dental chips, or decay, as well as to conceal stains or discolorations, close gaps, and improve the look of misshapen or undersized teeth. Our skilled and experienced professional team combines the art and science of dentistry to achieve aesthetically pleasing, durable, and long-lasting results of care. Your new dental bonding will appear naturally beautiful so that you can feel confident sharing your smile with the world.
To find out more about how we can improve the look, health, and function of your smile with dental bonding procedures, or one of the many other restorative and cosmetic dental solutions that we provide, give us a call today.
Smile Makeover
Little Falls Smile Makeover offers cosmetic dental procedures to enhance your smile and your life.
At Picture Perfect Smile, we witness firsthand the power that Cosmetic Dentistry has to change our patients' lives. Cosmetic dentistry is the best way to improve your smile, whether you have missing or damaged teeth, gaps between your teeth, or your teeth have been discolored or stained. Your Little Falls, NJ Dentists offer all of their services in their comfortable dental office; you don't need to worry about being referred to additional specialists. This means we will be overseeing and performing your cosmetic dental procedures, in a manner that is convenient to your schedule. By enhancing your smile, you are truly enhancing every aspect of your life.
Our dental team brings keen eyes for aesthetics to every procedure we perform. We have the expertise, skills and professional insight to customize and combine treatments so that even the most cosmetically flawed smiles can be dramatically transformed. Below you will find descriptions of some of the world-class Cosmetic Dentistry services we offer at Picture Perfect Smile. Please contact our dental practice in Little Falls, New Jersey if you have any questions or would like to schedule an appointment.
With our state-of-the-art cosmetic dentistry procedures, we are focused on saving as much of your existing tooth structure as possible, saving you money, preserving your teeth, and eliminating the need for more invasive dental procedures.
Inspire Confidence and Ease with Smile Makeover
You will instantly find others to be more comfortable and relaxed in your presence if you have a great smile. Not only will your family, friends, and co-workers appreciate it, but you'll also find that you feel more confident and secure with a smile that's aesthetically pleasing. Your entire appearance is improved by a great smile, you will find that this benefits your job and your social life, as others will find you appealing, attractive and confident. Having a smile that others notice as bright and friendly is the first step to building solid relationships in all areas of your life. Below are some of the cosmetic dental procedures we provide:
Schedule Your Smile Makeover Consultation Today
Picture Perfect Smile welcomes the opportunity to work with you in achieving your perfect smile. To schedule smile makeover consultation, please contact our Little Falls, New Jersey dental office today at (973) 256-2222 or Contact Us here.
Our reputation for creating healthy and beautiful new smiles attracts patients from throughout Little Falls, Cedar Grove, North Caldwell, West Caldwell, Totowa, Wayne, Woodland Park and Lincoln Park.
Veneers
Your Little Falls Dentists spent years perfecting the art of smiles. After assessing your oral health and determining your viability for porcelain veneers, our dental team will discuss the details with you and will ensure that your porcelain veneers fit well and look great on you.
Porcelain veneers can instantly rejuvenate your smile and the process won't require multiple procedures or too many hours out of your busy schedule. In many cases, your beautiful new smile can be obtained in only two visits to our Little Falls NJ dental office.
Benefits of Veneers and Laminates
Porcelain is made of biocompatible material, so it won't hurt your teeth or irritate your gums.
Porcelain reflects light the same way as your natural teeth's enamel does, making them look natural.
A single procedure can address a numerous cosmetic smile flaws, such as gaps to stains.
Veneers can help stabilize and strengthen weakened teeth.
Porcelain is a non-porous surface, so it's more resistant to stains.
Veneers and Laminates help your smile look straighter and brighter instantly.
Porcelain Veneers and Laminates for a Beautiful Little Falls, NJ Smiles
To ensure that your Veneers or Laminates fit properly, your dentist at the Picture Perfect Smile will remove a small amount of enamel. Then, we make molds of your teeth and send them to our trusted dental labs. You will be fitted with a temporary veneers to wear while the dental lab crafts your new permanent veneers with precision. Your second appointment at our Little Falls dental practice is when we will place your veneers, making sure they fit perfectly. Some adjustments may be required until they fit perfectly. Then, it's time to etch your teeth so the bonding agent adheres appropriately and veneers are carefully placed
Your dentist will do a complete examination of your teeth to determine if either of these are ideal for you. Veneers and Laminates often provide the opportunity to dramatically transform the aesthetics of your teeth and smile. They can enhance the shape of your teeth, make your teeth as white as you want, and give you the smile you have always desired. Additionally, Veneers or Laminates are bonded to your tooth structure, which gives them strength. Since they are very thin, Veneers and Laminates are considered one of the most conservative cosmetic treatments available. Most of the time, very little or no tooth structure is removed before placing Veneers or Laminates. Ask your dentist how to improve your smile.
Request Your Appointment for Veneers and Laminates Today!
At Picture Perfect Smile in Little Falls, NJ, we can give you a new smile with porcelain Veneers or Laminates. If you want a beautiful smile, then request an appointment with us today by calling (973) 256-2222 or filling out the form in our Contact Us page. Our cosmetic dental practice serves New Jersey communities of Little Falls, Cedar Grove, North Caldwell, West Caldwell, Totowa, Wayne, Woodland Park and Lincoln Park.
ZOOM! Whitening
There are a number of things that cause stained teeth, and it is difficult, if not impossible, to avoid them all. Aside from the aging process, coffee, tea, soda, red wine, smoking, and certain foods are a few of the common culprits of teeth stains. This is why many people choose to whiten their teeth. With revolutionary Zoom Teeth Whitening, you can turn back the clock and transform your smile.
How does it work?
Unlike other whitening systems, Zoom Teeth Whitening is a simple and short procedure performed by your Little Falls Zoom Teeth Whitening Dentist. Not only is it safe and comfortable, but the results are immediate and long-lasting. One 45-60 minute session of Zoom Teeth Whitening is all it takes to brighten your smile up to eight shades.
Your lips and gums are covered so that only your teeth are exposed.
Your dentist applies the Zoom whitening gel and uses the specially designed Zoom light on your teeth. Together, the light and gel gently break up and remove any stains and discoloration.
This is repeated 3-4 times in 15 minute increments.
After the procedure, your dentist may provide you with touch-up trays to maintain your new smile. Then, you are finished and can enjoy a brighter and whiter smile!
Schedule Your Zoom Teeth Whitening Consultation Today
Experience the revolutionary Little Falls Zoom Teeth Whitening procedure to enhance and maximize your whitening results for a long lasting, bright and healthy smile in Little Falls, Cedar Grove, North Caldwell, West Caldwell, Totowa, Wayne, Woodland Park and Lincoln Park. Call 973-256-2222 or Contact Us for an appointment.
General Dentistry
Dental Crowns & Bridges
A dental crown (cap) is a restoration that is placed on teeth that have lost a lot of structure. There are various types of crowns, ranging from full porcelain to full metal crowns. Your Little Falls, NJ Dentists will explain the advantages and disadvantages of each kind for you.
Dental Crowns may also be used to securely attach a bridge if the structure of the surrounding teeth is inadequate. A bridge is a dental appliance that is used to replace one or more missing teeth. They are designed to be cosmetically appealing and to restore proper occlusion. Like crowns, bridges are fully customizable and made of various materials, including porcelain and metals. Although not as permanent as a cap, bridges are bonded to the surrounding teeth and only removable by your dentist.
Both dental crowns and bridges are created to match the color, height, texture, and overall appearance of your teeth. Most crowns and bridges will last for life, eliminating the need to replace them unless they fall out or become loose. You may prolong the durability of your crowns and bridges by practicing good oral hygiene and visiting your dentist for regular check-ups and cleanings.
Your Little Falls, NJ Dentists specializes in dental crowns and bridges for the areas of Little Falls, Cedar Grove, North Caldwell, West Caldwell, Totowa, Wayne, Woodland Park and Lincoln Park. Call 973-256-2222 or Contact Us for an appointment.
Dental Fillings
Restoring Teeth With Dental Fillings
When dental decay compromises a tooth's structural integrity, a filling gets placed to rebuild its natural form and restore its strength and function.
Because tooth decay, also known as dental caries, remains one of the most prevalent chronic diseases affecting both children and adults worldwide, procedures to place fillings are routinely performed each and every day.
At the office of Picture Perfect Smile, we provide precise and gentle treatment and maintain a position at the forefront of advances in care to provide patients with the highest quality of aesthetically pleasing and durable dental fillings.
The History Of Dental Fillings
According to archaeological findings, for as long as dental problems have existed, there have been efforts to provide emergency and restorative care. In fact, attempts to place dental fillings have been found in the skeletal remains of people who lived around the year 8000 BC. However, it wasn't until thousands and thousands of years later, in the 19th century, that a variety of metal fillings, including dental amalgam, appeared on the scene. Although gold achieved status as a popular restorative material, it was soon apparent that amalgam fillings, consisting of a mixture of mercury and an alloy composed of silver, tin, and copper, offered a less expensive, durable, and simpler alternative.
Until recent decades, the vast majority of dental fillings remained silver-colored, amalgam restorations. However, as dentistry has evolved in the last 50 years, new filling materials have been developed. While amalgam fillings are long-lasting and durable, today's newer materials offer the benefits of being mercury-free, metal-free, and much more aesthetic. These "tooth-colored or white fillings" invisibly restore the form and function of the involved tooth, while seamlessly blending in with the remaining tooth structure and the entire smile.
Our Commitment To Restoring Oral Health And Beautiful Smiles
At the office of Picture Perfect Smile, we tailor treatment to address specific dental needs and expectations of care. As with all the services our practice provides, we'll explain all your options in care, including the type of dental filling materials we offer to restore your tooth. Our goals are to gently remove the dental decay and the damaged tooth structure and then rebuild your tooth's form and function while providing you healthy, durable, long-lasting, and cosmetically pleasing results.

What are the different types of dental fillings?
While traditional dental materials like gold and amalgam have been in use for over a century, recent advances in dental technology have made a more expansive and improved selection of restorative choices widely available. Beyond offering strength and durability, these new filling materials provide aesthetically pleasing and natural-looking results.
Some commonly used filling materials include the following:
Composite Fillings

Composite fillings, which are frequently referred to as either "tooth-colored fillings" or "white fillings," consist of a combination of biocompatible resins and finely ground, glass-like filler materials that become strong and durable when set. Available in a complete range of natural-looking shades, composite fillings offer a cosmetically pleasing alternative to traditional "silver" fillings. Composite resins are also used in dental bonding procedures to improve a tooth's color or shape, mask defects, or close minor gaps between teeth.

Composite fillings adhere to natural tooth structure through a bonding process, which also serves to seal and strengthen the tooth. Beyond providing a close match to your natural tooth color, a composite filling does not require removing of as much tooth structure for placement, nor are they subject to expansion or contraction with temperature changes as is the case with dental amalgams. However, composite restorations can be more vulnerable to wear and staining and may require replacement down the road.

Silver Fillings (Amalgam)

For many years, amalgam fillings represented the standard of care for restoring decayed teeth. While they don't offer the cosmetic appeal of other types of filling materials, amalgam restorations are strong, durable, and less likely than some other types of fillings to break or wear down.

Glass Ionomers

Another type of white filling material, glass ionomer cements bond to the tooth's surface to provide a tight seal between the tooth and surrounding oral environment. Besides offering a natural-looking restoration, glass ionomer cements slowly release fluoride to strengthen and help protect the involved tooth from future decay. Since they are not as durable or wear-resistant as other filling materials, glass ionomers are most frequently used to treat baby teeth, cavities near the gumline, and in temporary fillings.

Ceramic Fillings

Ceramic fillings, inlays, and onlays are fabricated from the highest quality of dental porcelain and ceramics. As the most stain and wear-resistant option in tooth-colored fillings, these restorations offer durable, attractive, and long-lasting results. While "direct" fillings such as dental amalgam and composite fillings get placed immediately after the tooth is prepared, "indirect" fillings such as inlays or onlays get fabricated outside of the mouth before insertion and cementation or bonding.

Gold Fillings

Far less common these days and more expensive than any of the other materials, gold fillings remain excellent restorations. With excellent physical and chemical properties, gold fillings are strong, long-lasting, kind to the surrounding tissues, and remain stable over time.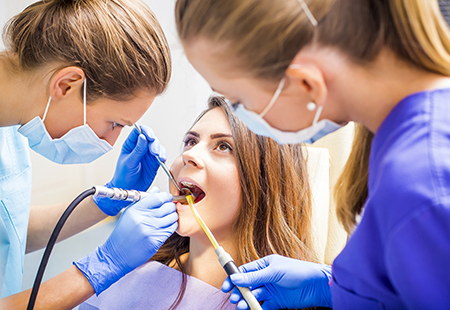 How are cavities treated?
Once our office has a chance to assess your smile, we'll advise you of our findings and outline a comprehensive treatment plan to help ensure your smile is healthy and functions at its best. If any tooth decay is detected, we'll schedule appointments to treat those cavities and place the fillings or restorations that are needed.
At the office of Picture Perfect Smile, patient care and comfort are our top priorities. While treating cavities and placing fillings are among the most routine procedures in dentistry, our office understands you have questions and concerns and will keep you well informed every step of the way.
Treating a cavity involves the precise and gentle removal of decayed and damaged tooth structure and any preparation of the remaining tooth structure needed to secure your new filling. Although every patient and every smile is different, you can expect your visit to take about an hour.
In most cases, this visit is performed under local anesthesia. As the work gets performed, your tooth is completely numb, and you should not feel any discomfort. A dental drill, dental laser, or air abrasion technology can be used to remove decay. Once the cavity gets excavated, and healthy tooth structure remains, it's time to place the filling. The type of dental filling material being used determines the manner of placement. Composite fillings, glass ionomer cements, and amalgam fillings are typically placed right away. However, in the case of an extensive cavity, a tiny palliative dressing and a temporary filling may be placed. Whatever type of filling is used, our office will check the fit, do any necessary polishing, and meticulously adjust the bite to ensure your optimal comfort and function.
For patients who are anxious about dental work, you can rest assured the office of Picture Perfect Smile is mindful of your needs. As skilled and experienced providers of care, we pride ourselves on providing gentle dentistry and do all we can to make your visit comfortable and stress-free. While we perform dental procedures under local anesthesia, we're also happy to discuss options in dental sedation.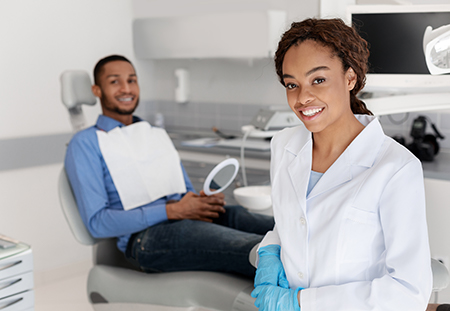 What Do I Need To Know Following The Placement Of My New Filling?
At the office of Picture Perfect Smile, our goal is to help our patients enjoy optimal oral health and to keep them well informed every step of the way.
Immediately after the placement of a new filling, it's essential to keep the following in mind:
Until the anesthesia wears off
Immediately following your dental visit, you may experience a period of lingering numbness. Normal sensation typically returns within an hour or two. However, until the anesthetic has completely worn off, it's essential to protect yourself from unintentionally biting or injuring your lips, cheeks, gums, or tongue. Be mindful of chewing, drinking hot beverages, or smoking.

Now that your tooth has been restored and rebuilt, it may feel slightly different
While we take the utmost care to polish your new filling and make sure the bite is correct, on rare occasions, a patient may feel additional minor smoothing or further bite adjustment is required.

You may experience short-term sensitivity
It's perfectly normal for a tooth to feel a little sensitive following the placement of a filling. You may experience a twinge when eating cold or hot foods and beverages. This sensitivity should subside by itself within a few days. If your sensitivity worsens, you experience ongoing pain or develop any other symptoms; please contact our office.

Caring for your new restoration
Our office uses the latest generations of strong and durable filling materials. With proper oral hygiene and routine care, your new filling should last for many years to come. However, in cases of extensive tooth decay or injury to the underlying tooth, even the best restoration may need to be replaced, or further dental work may be needed down the road.
We're passionate about what we do and dedicated to providing the highest quality of care. If you have any additional questions or concerns, feel free to contact our office.
FAQs On The Topic Of Dental Fillings
+
Are my teeth just sensitive, or do I have a cavity?
If the pleasure of eating a delicious bowl of ice cream or sipping a soothing cup of tea gets overshadowed by dental pain that makes you wince; it's time to contact our office. As skilled providers of care, we'll determine what's causing your discomfort and perform the treatment required to alleviate your symptoms and get you back on the road to oral health.
+
What causes a cavity to develop?
Cavities develop because of an infectious process that causes progressive damage to tooth structure. Despite starting as a pinpoint defect on the outermost enamel layer of your tooth, untreated dental decay progressively compromises more and more healthy tooth structure as it works its way to the inner layers of your tooth.
+
Can I still get a cavity if my tooth already has a filling?
Yes, you can still develop tooth decay on other surfaces of the tooth, around the margins of an old filling, or in fewer instances, recurrent decay underneath it. For this reason, it's essential to maintain excellent oral hygiene, a diet low in sugary beverages and sweets, and be sure to visit our office for routine checkups and care. While tooth decay is second only to the common cold in frequency, it's almost entirely preventable.
+
Is it possible to have more than one filling done at the same visit?
We value the time and comfort of our patients. If cavities are located on adjacent teeth, or in the same section of your smile, it may be possible to treat more than one tooth during your visit. However, how much is done each visit depends on several factors. We keep our patients well informed and tailor every treatment plan and visit to address their unique needs.
+
Are silver amalgam fillings safe?
Addressing concerns on the presence of elemental mercury in silver fillings, the American Dental Association (ADA), The Center for Disease Control and Prevention (CDC), the FDA, and the World Health Organization have all stated that amalgam restorations do not pose a risk to health. However, individuals with allergies or sensitivities to the metals in dental amalgam are advised to pursue other restorative options.
+
Does it hurt to get a filling?
Dental fillings are performed under local anesthesia to help ensure your comfort throughout the entire procedure. The involved tooth remains completely numb for the extent of your visit. Within one or two hours after the procedure is completed, the local anesthetic will gradually wear off, and normal sensations return.
+
When can I eat after my visit?
A tooth-colored composite filling is fully hardened and set by the end of your visit. However, we may advise you to wait a couple of hours until the local anesthesia has completely worn off. This advice is to help ensure you don't accidentally bite your lip, cheek, or tongue while still numb.
+
How long do dental fillings last?
The lifetime of a dental filling varies depending on the type of material used. While popular dental materials can last a decade or more with proper care, they can degrade over time, wear down, or even break. When this happens, you may experience some tooth sensitivity, a jagged edge, or a loose or dislodged piece of filling material. Whatever the case may be, it's essential to get the filling replaced before the tooth sustains further damage or other consequences arise. Beyond taking good care of your smile we can help ensure the longevity of your fillings, our office regularly checks the status of your existing fillings as part of a routine checkup exam.
+
How much do fillings cost?
Dental fillings are an essential investment that serves to preserve and protect the health of your smile. With that said, how much a filling costs depends on the number of surfaces of the tooth involved and the filling material that is used. Amalgam restorations are the most economical. While tooth-colored composite fillings have a slightly higher cost, they offer the added benefits of being metal-free and much more aesthetically pleasing. Ceramic fillings, inlays, and onlays are more expensive than the preceding options but provide outstanding, long-lasting, and natural-looking results.
+
Does dental insurance cover the cost of getting a filling?
Dental insurances typically cover the cost of dental fillings. While we work with you to maximize your insurance benefits, there may still be an out-of-pocket expense. At the office of Picture Perfect Smile, we strive to help you begin care without any additional financial stress or delay.
Dentures
We use modern materials to create beautiful custom partial or full Dentures in Little Falls, NJ.
Dentures are still common, though many advances have been made in the field of dentistry, loss of teeth is still an ongoing problem. In the United States, 26% of adults between the ages of sixty-five and seventy-five have lost all of their teeth. Currently, there are a number of options available for people who have lost their teeth. One of the most versatile and affordable is a set of removable dentures.
Affordable Tooth Replacements for Little Falls Dental Patients
Picture Perfect Smile specializes in dentures and the restoration or replacement of broken and missing teeth. We create state-of-the-art removable, permanent, and implant-retained dental appliances, including partial and full dentures.
At Picture Perfect Smile in Little Falls, NJ, we use advanced technology and modern materials to create beautiful custom partial or full dentures. We can also replace or adjust your current dentures if you are having any bite issues or experiencing slipping or speech impediments.
Standard Full Dentures in Little Falls, NJ
Standard full dentures comprise of a full set of upper and lower teeth. This type uses suction to stay in place. They are made of a pliable material which makes suction easy. However, it is for this reason that a standard full set requires routine visits to the dentist. Being pliable, this type is more susceptible to shrinkage, thus creating an ill-fitting prosthetic that can result in atrophy of the jawbone.
Partial Dentures in Little Falls, NJ
Partial dentures replace only a limited number of teeth. Partials are a single piece that is supported by the remaining teeth and gums. They are much more secure than standard full dentures and are more comfortable.
Cosmetic Dentures in Little Falls, NJ
Cosmetic dentures are made to look as natural as possible. Unlike standard dentures that use a heat curing process which leads to dentures that become ill-fitting over time, cosmetic dentures are made from a special acrylic base that eliminates the possibility of shrinking and warping. Other cosmetic dentures achieve a natural appearance through the use of dental implants. This type will either rest on or snap onto the implant. What this does is allow the denture to stay in place and keep it from moving around, which makes the denture more comfortable than a standard one.
Loss of teeth and expensive treatment options don't have to prevent you from continuing to lead a healthy and happy life. Removable dentures are a suitable course of treatment for many people. You deserve to give yourself the best treatment possible.
Schedule Your Dentures Appointment
Depending on your smile needs, your Little Falls Dentures team can customize either a full set of dentures for your upper and lower arches, or create partial dentures to fill in gaps around your natural teeth. The more natural teeth you have, the better your oral health. We serve the areas of Little Falls, Cedar Grove, North Caldwell, West Caldwell, Totowa, Wayne, Woodland Park and Lincoln Park. Call 973-256-2222 or Contact Us for an appointment.
Need Dentures in Little Falls, NJ? Call Picture Perfect Smile Today!
Picture Perfect Smile serves the communities of Little Falls, Cedar Grove, North Caldwell, West Caldwell, Totowa, Wayne, Woodland Park and Lincoln Park. Our restorative dental practice is conveniently located in Little Falls, NJ. If you're looking to replace your missing teeth, choose a dental practice that specializes in dentures. Call 973-256-2222 or Contact Us for an appointment.
Emergency Treatment
Are You Looking For An Emergency Dentist In Little Falls?
Whether you or any member of your family are suffering from a chipped tooth, toothache, wisdom teeth issues, or other problems affecting your oral health, you can be sure to get the prompt attention and skilled care you need at the office of Picture Perfect Smile.
While emergency dental care is a service we hope you'll never need, Picture Perfect Smile can help! As anyone who has ever had a toothache or sustained a dental injury can attest, the experience is both painful and upsetting. Although getting some measure of relief is a paramount concern, timely care is critical to prevent further consequences to your oral health and overall well-being.
At Picture Perfect Smile, our experienced, compassionate dental team provides a broad range of services to address dental emergencies in Little Falls and the surrounding communities. We can assure you that your smile is in the best of hands with us. Patient care and comfort are our top priorities. Our practice maintains a position at the forefront of advances in diagnostic and treatment technology to provide precise, gentle, and safe care.
We treat many types of dental emergencies and urgent oral health problems, including:
Toothaches
Chipped or fractured teeth
Abscesses
Loose or broken fillings
Dislodged or lost dental crowns
Broken, ill-fitting, or lost dentures
Problematic wisdom teeth
Acute Periodontal Problems
Loose or broken down teeth
Swollen, bleeding gums
Bacterial, viral, or fungal Infections affecting the tongue, cheeks, gums, lips, or other soft tissues of the mouth
Oral pain or swelling of unknown origin
Suspicious bumps, spots, and lesions

Let Picture Perfect Smile Help Alleviate Your Discomfort and Restore Your Oral Health
Our goal is to get you back on the road to oral health as quickly as possible. As a trusted emergency dentist, you can count on our office for prompt, skilled, and reliable care.
Treatment for dental problems such as a toothache or a fractured tooth can vary. It all depends on the extent of the damage caused by the decay or trauma. Care may involve the placement of a new dental filling, dental bonding, or a larger restoration such as a crown to rebuild the tooth's form and function. If the damage has reached the tooth's nerve and vital inner tissues, you may need root canal treatment to save your natural tooth. Root canal treatment is a highly effective procedure with a greater than 95% success rate. Although we provide leading-edge care and do all we can to help save your tooth, in some situations a dental extraction is required. While losing a tooth can feel a little overwhelming, there's no reason for despair.
With advances in dentistry, there are several options available for the replacement of missing teeth, including dental implants, conventional fixed bridges, and partial or complete dentures. Today, dental implants represent the most advanced method for replacing a lost tooth and reestablishing a complete and beautiful smile.
Frequently Asked Questions
−
What is a dental emergency?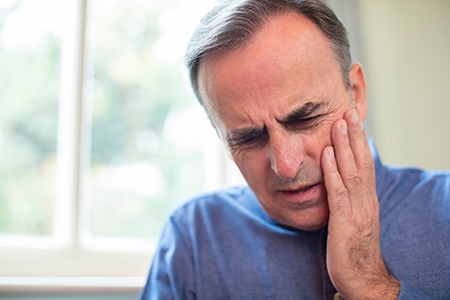 Toothaches
Pain is your body's way of signaling that something is not quite right and though there are many reasons for oral pain, one of the most common complaints and reasons for seeking urgent dental care is a toothache. Whether you simply need a dental filling, a crown, or require a root canal procedure to save your tooth, we'll alleviate your discomfort and restore the look and function of the involved tooth.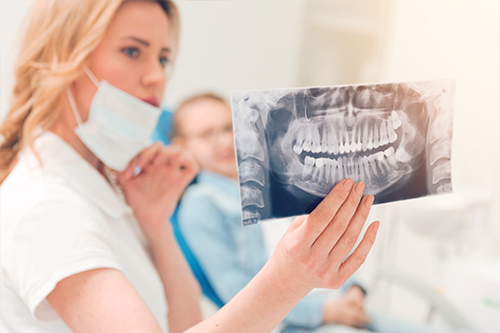 Dental Trauma
Dental trauma can result in a defect as minor as a small chip in tooth enamel to a more extensive and painful crack or fracture. With sufficient force, a tooth can even be displaced or completely knocked out of its socket. With prompt emergency care, many injured teeth can be restored and saved.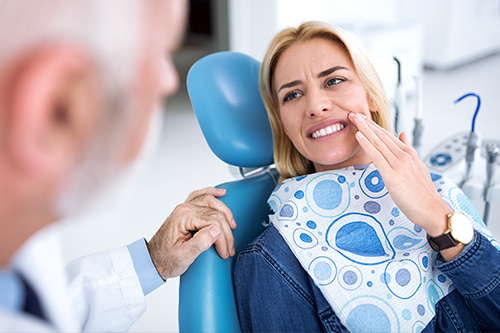 Wisdom Teeth
The last teeth in your mouth to develop, wisdom teeth often do not have enough room to fully erupt or may be positioned in the wrong direction. These issues can affect your dental health as well as overall well-being. Our office provides skilled care to address the complications caused by problematic wisdom teeth.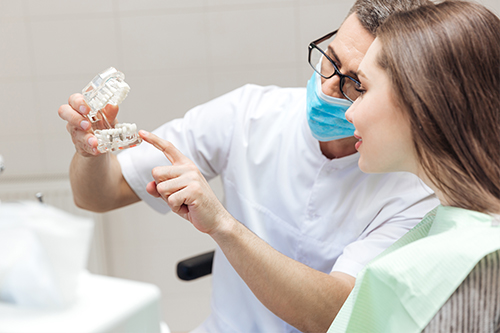 Broken or Lost Dental Appliances
A broken or lost dental prosthesis or restoration can cause embarrassing gaps in your smile as well as compromise your ability to eat and speak with ease. If you've lost or broken a dental filling, denture, crown, or other dental appliance, you can rely on our office to perform a prompt repair or provide a durable and cosmetically pleasing replacement as quickly as possible.
At Picture Perfect Smile, emergency appointments are always available. Of course, in addition to providing top treatment for dental emergencies, we also welcome patients searching for high quality and affordable care. We offer a complete range of the latest and best cosmetic and dental services for every member of your family.
+
How long do I have to wait for an emergency dental appointment?
If you are suffering from a toothache or have sustained a dental injury, it is important to visit the dentist as soon as possible before more serious complications arise. Whether your dental emergency is painful, if it affects the appearance of your smile, or if you suspect that an infection is present, our office will make every effort to see you as promptly as possible for care.
At Picture Perfect Smile, we treat your dental emergency as our top priority. Our caring team will respond to your emergency call right away, making sure you get the gentle, state-of-the-art care you need without delay.
As your trusted emergency dentist in Little Falls, we provide the highest quality of care to mitigate the stress, anxiety, and discomfort of dental problems. Our dedicated team will help you start feeling better as soon as we receive your emergency call.
+
Do I need to go to the emergency room or hospital?
At Picture Perfect Smile, we provide skilled and experienced care to effectively resolve a broad range of dental emergencies, restoring a patient's oral health while protecting their overall wellbeing.
However, even so, specific dental emergencies pose significant threats to one's health. These situations require immediate, emergency room care. Serious and potentially life-threatening dental emergencies include significant oral and facial trauma such as jaw fractures, deep wounds or lacerations to the face and mouth, an abscess or infection that causes widespread facial or submandibular swelling, or affects breathing and swallowing.
+
How much does emergency dental treatment cost?
At Picture Perfect Smile, we provide prompt, skilled, and experienced care to address dental emergencies. We understand that finances are always a concern and do our best to provide options in care that are both affordable and respect your budget.
Once we've had the opportunity to examine your smile, we can give you a clear picture of any existing dental issues, along with a quote for what the cost of treatment will be. The cost of care all depends upon the extent and complexity of issues affecting the health or appearance of your smile and the types of procedures that are required.
To help alleviate any additional stress or delay, you can count on our staff to work with you to optimize coverage for your dental care and to minimize your out-of-pocket expenses. For patients without insurance, we strive to make things easier as well! We invite you to visit our financial information page or speak to an expert in our business office.
+
Why Choose Picture Perfect Smile For Your Emergency Dental Treatment In Little Falls?
Dental emergencies are often painful and debilitating experiences. For this reason it's important to have an emergency dentist in Little Falls, who welcomes patients with urgent dental needs while providing the prompt care required to restore oral health.
Here are just some of the reasons why so many patients choose our office for emergency dental care and to meet their family's dental needs:
Skilled and compassionate care for patients of all ages
Ultra-modern office designed with patient comfort in mind
Professional team experienced in all facets of care
State-of-the-art diagnostic and treatment technology
Precise and gentle treatment using leading-edge systems of care
Careful attention paid to patient input and treatment expectations
Detailed explanations of treatment options and every step in care
Provision of a broad range of dental services and emergency procedures
Recognizes the specific needs of each patient and the unique requirements of every smile
Provide patients with the education and tools to establish a strong foundation for optimal oral health
We're dedicated to helping patients enjoy good oral health and beautiful smiles. We look forward to helping you keep your smile in tip-top condition. You can rest assured that our highly skilled office team will provide you the highest quality of state-of-the-art dental care and have you smiling again in no time!
To make an appointment or for more information on our office and the many state-of-the-art services we provide, give us a call today.
At Picture Perfect Smile, We Provide Care To Support Ongoing Oral Health And Help Prevent Dental Emergencies
While some dental emergencies cannot be predicted or avoided, practicing good oral hygiene, a healthy diet, and routine care go a long way to protect the health of your smile.
At Picture Perfect Smile, we emphasize taking a preventive approach to care to help you and every member of your family maintain healthy, beautiful smiles. By coming to our office as recommended for checkup visits and routine care, we can help to prevent both the onset and progression of many oral health problems. We offer a comprehensive program of preventive care, including examinations, professional teeth cleanings, and oral cancer screenings, along with patient education on hygiene, diet, and healthy practices.
Your oral health and overall well-being are our top priorities. Remember, it's best not to hold off seeing the dentist until you're in terrible pain or think there's something wrong. By scheduling a routine appointment for a comprehensive checkup, a professional cleaning, and routine dental care, our skilled dental team can help you keep your smile looking and functioning its very best.
Extractions
Implant Dentistry
Little Falls Dental Implants are solutions to missing teeth and loose dentures
During the last 20 years, dental implants have become a desirable alternative to other methods of replacing missing teeth. Excellent success rates and a range of available options give dentists a variety of new ways to treat and replace lost teeth.
Dental implants play an essential role in Restorative Dentistry because they are permanent prosthetics that are both natural-looking and cosmetically appealing, implants can be used either for cosmetic purposes or for full-mouth restorations.
Using Dental Implants in Restorative Dentistry
When a single tooth is lost, other teeth surrounding it may begin to shift, resulting in an unsightly appearance. In the past, bridges were the preferred method of cosmetic restoration, but surrounding teeth had to be damaged in order to support the prosthesis. As an alternative, many patients seek dental implants as a means of improving cosmetic appearance following the loss of a tooth. A dental implant has the look, feel and function of a natural tooth, and it's positioning within the bone where the prior tooth was once rooted prevents other teeth from shifting out of place. The result is a visually appealing smile you can be proud of.
In some cases, all of a patient's teeth need to be replaced due to decay or other oral health complications. The teeth are vital for communication and digestion, so replacement is no longer a matter of cosmetic preference – but a necessity. Options for full mouth restoration are limited to dentures or dental implants. More and more patients are choosing implants over dentures, as they provide a permanent solution that requires less maintenance and also preserves more of the natural maxillofacial bones surrounding the teeth.
Who Qualifies for Dental Implants?
Your dentist can evaluate your case and tell you if you are a candidate for dental implants. Structurally, a dental implant is a titanium-based cylinder that replaces the missing tooth root. After a period of time, other parts are placed on the implant to enable your dentist to eventually place a crown (cap) on the implant. Dental implants can also be used to support full or partial dentures, dramatically improving denture retention and stability.
Most patients with adequate bone mass can have dental implants, although it varies among individuals. Typically an x-ray and CT-scan are performed to determine if you have enough bone to place the implant, as well as to verify the size and kind of implant that should be placed.
Benefits of Dental Implants
When compared to fixed dental bridges and removable dentures supported by other teeth or gum tissue, dental implants offer numerous advantages:
1. Better aesthetics:
Since implants are placed in the gum similar to the way a natural tooth is supported, they offer a more realistic and natural look compared to other alternatives.
2. Reduction of bone resorption:
When a tooth is lost, the supporting bone structure gradually recedes. Placing an implant in that empty space significantly reduces the speed of bone resorption and provides stability for this valuable tissue.
3. Retention:
Patients who have experienced removable full or partial dentures know that keeping their dentures in place is always a challenge. Dental implants offer a great improvement to denture retention for all patients. In some cases the denture can be secured to a group of dental implants with special screws that stabilize the denture completely.
4. Preserving natural tooth structure:
Often the preferred method of replacing a single missing tooth is a bridge. Bridges require extra preparation for the surrounding teeth to ultimately connect 3 or more teeth. This negatively impacts your health by making the task of retaining your teeth more difficult and by often requiring the destruction of existing tooth structure to create room for the new bridge. An implant is mostly an independent unit and does not negatively affect the adjacent teeth.
Schedule You Dental Implant Consultation Today
Picture Perfect Smile's Little Falls Dental Implants help improve your appearance, speech, the ability to enjoy your favorite foods, your comfort and your self-esteem. We serve the areas of Little Falls, Cedar Grove, North Caldwell, West Caldwell, Totowa, Wayne, Woodland Park and Lincoln Park. Call (973) 256-2222 or Contact Us for your dental implant consultation.
Root Canals
Every tooth consists of three different layers. The outermost and hardest layer is enamel, and the second layer is dentin. The third is pulp, which is the cavernous space where the live tissue and nerve of each tooth is located.
If for any reason the pulp space is exposed to the outside, the tissue becomes contaminated and eventually infected. The exposure of pulp happens in many circumstances, such as when you have a large cavity or a fractured tooth. Your dentist can explain the exact reason for damage to this tissue. In these cases, the treatment is usually root canal treatment.
Root canal treatment is the process of going inside the pulp space and removing the infected, dead tissue. The space is then disinfected and sealed with special materials. Nowadays, root canal treatments are performed with advanced techniques and materials, making them far more comfortable and faster. After root canal treatment is complete, your restorative dentist will usually place a crown on your tooth to safeguard against fracture.
Your Little Falls, NJ Dentists specializes in root canal treatment for the areas of Little Falls, Cedar Grove, North Caldwell, West Caldwell, Totowa, Wayne, Woodland Park and Lincoln Park. Call 973-256-2222 or Contact Us for an appointment.
Appliances & Technologies
Dental Lab
Having a dental lab on premises enables our office to provide the highest quality services and the most convenient options in care.
In our in-house laboratory, your dental restorations and dental appliances can be fabricated for the most precise fit as well as fully customized as needed to match the appearance of your smile. An onsite dental lab also means that we can offer our patients a quicker turnaround time and more efficient repairs in case of damage or breakage of dental appliances.
Digital Impressions
By using intra-oral optical scanning devices, the need for patients to have a messy conventional dental impression taken of their teeth is eliminated. Digital optical impressions enable the dentist to more efficiently and effectively obtain an accurate computer generated representation of their patient's teeth along with the surrounding tissues. In addition to being much more comfortable for the patient, a digital impression eliminates the need for the dentist to either create a stone model from the impression, or to mail the impression directly to the laboratory for any type of work to be done. Digital impression information is transmitted electronically, significantly reducing the turnaround time of any needed outside laboratory work. Digital impressions are also integral to systems that produce same day, in-office ceramic restorations.
Digital Radiography
Digital radiography utilizes computer technology and digital sensors for the acquisition, viewing, storage, and sharing of radiographic images. It offers several advantages over the older traditional film based methods of taking x-rays. The most significant of these advantages is that digital radiography reduces a patient's exposure to radiation. Other benefits are that images can be viewed instantly after being taken, can be seen simultaneously as needed by multiple practitioners, and can be easily shared with other offices. Digital x-rays are also safer for the environment as they do not require any chemicals or paper to develop.
An electronic pad, known as a sensor is used instead of film to acquire a digital image. After the image is taken, it goes directly into the patient's file on the computer. Once it is stored on the computer, it can be easily viewed on a screen, shared, or printed out.
Night Guards
Chronic jaw clenching and grinding one's teeth is called bruxism. While it can happen any time of day, it often occurs at night causing an individual to wake up with any number of symptoms including jaw pain, headaches, and sore teeth that may feel loose. Although, stress and anxiety are the most common causes of bruxism there may be other contributing factors such as a sleep disorder, an abnormal bite, as well as teeth that are missing or poorly aligned.
To alleviate the symptoms of bruxism, wearing a night guard while sleeping is frequently recommended. This appliance is designed to fit over the teeth and to keep the jaws slightly apart. Wearing a night guard prevents a number of damaging events, including muscle strain, excessive pressure on the jaw joint (the TMJ), and such dental damage as chipped or cracked teeth resulting from the teeth grinding against each other.
In addition to preventing damage to the soft and hard tissues surrounding the orofacial cavity, a custom night guard fabricated at the dental office can help curb a bruxism habit and give the wearer a better night's sleep.
Oral Cancer Screening
Oral cancer accounts for 2.9% of all diagnosed cases of cancer in the United States. According to the American Cancer Society it is estimated that 51,000 people across the country will develop oral cancer this year and that 10,000 fatalities are expected from the disease.
Oral cancer can occur anywhere in the orofacial complex but is most often found on the tongue, the tonsils and oropharynx, the gums, floor of the mouth, lips, cheek lining or the hard palate. While the disease can affect anyone, men are twice as likely to develop oral cancer as women. Those particularly at risk for oral cancer are men over the age of 50 who are heavy smokers and frequently drink alcohol. Additional risk factors may include UV exposure from the sun or sunlamps, GERD (gastro-intestinal reflux disease), prior head and neck radiation treatment, exposure to certain chemicals and poor diet. While the death rate from oral cancer has been decreasing in the past several decades thanks to early detection and advanced methods of treatment improving the outcomes of care, there has been a recent rise in the incidence of oropharyngeal cancer due to increased transmission of the sexually transmitted human papillomavirus (HPV).
As part of a comprehensive exam, the dentist will perform a screening for oral cancer. To start, the dentist will review the patient's medical and dental histories and ask if there have been any changes to his or her oral health or overall health. The dentist will then carefully check in and around the oral cavity as well as the head and neck area for signs or symptoms that may indicate the presence of a problem
Sedation Dentistry
Dental anxiety affects an estimated 30 to 40 million people in the United States. If you are among the many who struggle with fear or anxiety when it comes time to visit the dentist, the office of Picture Perfect Smile can help. We're dedicated to our patients' care and comfort. We offer safe, controlled sedation techniques to alleviate anxiety and make it easier and less stressful to maintain excellent oral health.
If you have dental anxiety or dental phobia, you may find yourself skipping checkups as well as avoiding getting the care you need. However, letting fear get in the way of dental treatment not only takes a toll on your oral health but can also affect your overall well-being. The good news is that sedation dentistry enables anxious patients and those who have difficulty sitting for treatment the benefits of maintaining optimal oral health. By creating a deep sense of calm and relaxation, dental sedation helps ease any fears and apprehension associated with care.
Don't let fear get in the way of maintaining a healthy, beautiful smile any longer! As skilled and compassionate providers of care, we'll explain the types of dental sedation we offer and answer all your questions throughout the course of treatment. In addition to helping you feel completely at ease, sedation typically makes a lengthy procedure feel like it's over in just a few minutes. Although you'll feel fully relaxed while sedated, you'll still be able to respond to verbal cues from our dentist. You merely won't feel bothered at all by the moment-to-moment details of treatment. We'll inform you if the type of sedation you're receiving requires someone to accompany you to the office and home following treatment.
At the office of Picture Perfect Smile, we're dedicated to providing the highest quality of skilled and compassionate care. For more information on our office and the many services we provide, give us a call today.
About dental sedation
Sedation dentistry offers individuals with general anxiety about going to the dentist or fears about a specific dental procedure the opportunity to have a stress free and more comfortable experience. By utilizing safe and controlled sedation techniques before a dental procedure, the patient is eased into a state of complete relaxation. This step eliminates any discomfort, pain, and preoperative anxiety that may be associated with a particular dental visit. With sedation dentistry, patients typically feel more at ease post-operatively as they have little or no memory of the actual moment-to-moment dental procedure.
At the office of Picture Perfect Smile, we are committed to creating a comfortable and caring environment for our patients. While we always use a local anesthetic to thoroughly numb the treatment area so that patients do not feel any discomfort, some individuals may feel they need an additional option to reduce their anxiety and have a more relaxed experience. For these patients who are apprehensive about dental work or a particular procedure, we'll discuss safe and effective options in dental sedation.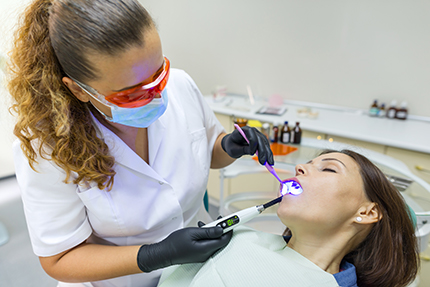 Reasons to consider dental sedation
While the reasons for choosing dental sedation can vary, some of the more common explanations include the following: 
Dental phobia - Sedation dentistry offers an excellent solution for patients whose fear of seeing the dentist is so disabling that they are otherwise willing to forego care. 

Anxiety about a particular procedure - Sedation dentistry offers patients who feel anxious about specific procedures a more positive and stress-free treatment experience. 

Extensive dental work - When extensive dental work requires patients to sit in the chair with their mouths open for long visits, sedation dentistry can help ensure greater comfort while making time seem to pass more quickly. Sedation dentistry also offers patients who cannot make multiple trips for care the option of getting more work done over fewer visits.

Powerful gag reflex - For patients with a strong gag reflex, it can be as uncomfortable for the patient to tolerate care as it is difficult for the dentist to provide it. With sedation, the patient is comfortable, more relaxed, and can tolerate treatment without gagging.

Sensitive teeth and gums – Even if the work does not involve a particular tooth or area of the mouth, for patients with hypersensitive teeth and gums, getting dental treatment with instruments, suction, a water spray, and other stimuli can feel terribly uncomfortable. In these cases, dental sedation can help provide a much more comfortable treatment experience. 

Difficulty sitting for dental work – In addition to dental anxiety, it may be difficult for some young children or patients with disabilities, special needs, cognitive impairment, or certain medical conditions to sit still for dental care. Dental sedation enables the delivery of care to provide routine treatment and alleviate dental problems to maintain optimal oral health.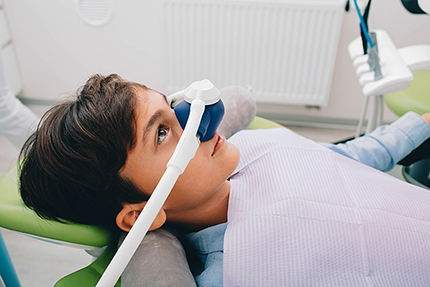 What are the options for dental sedation?
At the office of Picture Perfect Smile, we provide skilled, experienced care that's tailored to the individual needs of each patient. Our dental team strives to make every visit to our office a positive and informative experience. Depending on a patient's specific needs and relevant medical history, we'll discuss the most appropriate method of dental sedation and the services our office provides.
The difference between conscious sedation and general anesthesia
It's essential to understand the difference between the methods of conscious sedation performed in a dental office and general anesthesia provided in a hospital setting. For most patients that choose or require dental sedation, conscious sedation will suffice.
With conscious sedation, a patient experiences greater comfort and relaxation during a dental procedure while remaining aware of verbal commands and responsive to specific stimuli. Breathing is unassisted and cardiovascular function remains stable. On the other hand, general anesthesia puts patients in a deep state of sleep where they are not responsive to stimuli. General anesthesia is reserved for patients who cannot tolerate the provision of care with any other form of sedation and is administered by an anesthesiologist in a hospital setting.
Conscious sedation in the dental office
Every patient is unique. The method of conscious sedation selected depends on a patient's specific needs, relevant medical history, and the extent of required dental work.
While all types of conscious sedation allow the patient to relax and feel comfortable during a dental procedure, the level of sedation differs depending on which of the following methods is employed.
Inhalation sedation (Nitrous Oxide or "Laughing Gas")

Commonly referred to as "laughing gas," nitrous oxide is used as a mild sedative to reduce anxiety and facilitate relaxation during dental procedures. It's inhaled through a small mask over the nose and administered for optimal safety in combination with oxygen. Used for the duration of a dental procedure, nitrous oxide gets turned off as work comes to an end. Once the laughing gas gets turn off, the effects wear off very quickly, and the patient returns to a state of complete awareness. Beyond addressing mild to moderate anxiety levels, inhalation sedation can help reduce gagging in patients with a strong gag reflex.

Oral Sedation

Oral sedation offers a relaxed and comfortable experience with little to no anxiety. With this method, patients are given a prescription for an oral medication before their appointment. When taken at the recommended time before their visit, this medication allows patients to feel entirely relaxed by the time their procedure begins. With oral sedation, a patient must have an escort on the day of the procedure to drive them to and from the dental office.

IV Sedation

IV Sedation involves a sedative that is administered intravenously or directly into a vein. It is indicated when more profound sedation is required. This type of sedation starts to work very quickly and can get readily modified to regulate the patient's state of consciousness as well as continued for as long as the procedure requires.

IV Sedation requires an empty stomach. Patients receiving this type of sedation will be instructed how many hours in advance of their surgical procedure they should stop eating or drinking. In addition to this, patients receiving IV sedation will need to have an escort present for the appointment and on hand to drive them home when the visit is completed.
FAQs Sedation Dentistry
+
What is sedation dentistry?
Sedation dentistry offers patients with general anxiety or fears about a dental procedure the opportunity to have a more comfortable and stress-free experience. By utilizing safe and controlled sedation techniques, the patient is eased into a state of complete relaxation before the procedure. This approach eliminates discomfort, pain, and preoperative anxiety and typically makes patients feel more at ease post-operatively, as they have little or no memory of the actual moment-to-moment procedure.
+
What is the difference between local anesthesia and dental sedation?
Local anesthesia involves an injection directly into or close to the area where a procedure is being performed. While it eliminates any sensation of pain in the targeted area, it does not affect your state of mind or level of anxiety. When a patient receives sedation, additional medications to ease anxiety and promote relaxation are employed in advance of local anesthesia. In this way, both the stress and discomfort associated with a procedure are eliminated. Sedation can be administered in various forms based upon patient needs and the dentist or dental anesthesiologist's recommendations.
+
What are the different types of dental sedation?
Choosing the most appropriate sedation method for a procedure depends on a variety of factors such as a patient's medical history and their level of anxiety. Dental sedation can come in the form of nitrous oxide sedation, oral conscious sedation, and IV sedation. Certain patients receiving comprehensive treatment or undergoing a complicated surgical procedure may require general anesthesia in a hospital setting.
+
Am I a candidate for dental sedation?
It's no secret that patients who feel at ease during dental visits are more likely to pursue the care they need. If you experience significant anxiety about trips to the dentist or a particular procedure, dental sedation offers a solution for keeping your smile in tip-top condition while experiencing a more relaxing and stress-free visit. At the office of Picture Perfect Smile, we're sensitive to our patients' needs and dedicated to ensuring their comfort. Based on your level of anxiety, your medical history, and the dental treatment that's required, we'll explain your options in dental sedation and help you select the safest method that's right for you.
+
Is dental sedation safe?
Sedation dentistry offers a safe and effective way to provide the required dental care while reducing a patient's anxiety and ensuring optimal comfort. Before a type of dental sedation gets recommended, all factors, including a patient's medical history, level of anxiety, dental needs, and other relevant factors, are carefully reviewed. Every method of sedation is provided and supervised by a qualified, trained dentist or physician and administered in the appropriate setting.
+
Does dental insurance cover the cost of dental sedation?
Keep in mind that it's always wise to invest in your smile and prevent bigger and more costly problems down the road. While many insurance plans do not typically cover sedation dentistry, it may be approved if a patient has a disability or medical condition that makes it impossible to receive care otherwise. General anesthesia might also be covered when it's a medical necessity to have treatment. 
It's always best to contact your insurance provider for clarification and an exact explanation of your dental benefits and coverage. At the office of Picture Perfect Smile, our goal is to help patients get the care they need without additional stress or delay. We're happy to answer all your financial questions and discuss all your options for getting the care you require.
+
Why choose the office of Picture Perfect Smile?
At the office of Picture Perfect Smile, patient care and comfort are our top priorities. We take pride in offering a comprehensive range of advanced services while providing precise, gentle treatment and stress-free solutions for all of your dental healthcare needs. We're dedicated to providing the highest quality of skilled, compassionate care. You can feel confident that your smile is in the best of hands with us. To learn more about our office, or schedule an appointment to begin care, give us a call today.
Sports Mouthguards
Every year millions of cases of dental and facial injuries occur as the result of sport-related trauma. While all sports have some risk of oral injury, it is especially prevalent in recreational activities that involve frequent body contact with other players or the ground, as well as the possibility of being struck by other objects such as, balls, bats, or sticks.
One way to significantly reduce the risk of damage to your teeth, cheeks, lips, tongue, face, or jaw as the result of a sports-related injury is to wear a mouthguard. A mouthguard is a removable appliance made of a sturdy plastic that sits comfortably over your teeth. Typically, mouthguards are designed to cover just the top teeth but may also be fabricated to include the lower teeth as well depending on your particular situation. Individuals who wear braces or have some types of dental work may require a specific type of mouthguard that provides more coverage.
There are three types of sports mouthguards on the market, including pre-formed and ready to wear stock mouthguards, boil and bite mouthguards, and custom mouthguards fabricated by your dentist. Our office will help you to select just the right sports mouthguard to protect your smile. While the first two choices offer some level of protection, the best and most comfortable mouthguards to safeguard your smile are the ones individually designed and customized by your dentist.
TMJ Disorders
According to the National Institute of Dental and Craniofacial Research (NIDCR), temporomandibular joint disorders (TMJ), also referred to as temporomandibular disorders (TMD), are the most common source of chronic facial pain and jaw dysfunction. It is estimated that more than 10 million people in the United States are affected by temporomandibular joint problems.
What is the Temporomandibular Joint?
There are two temporomandibular joints that connect the left and right sides of the lower jaw to the temporal bone. Both joints and their associated muscles, ligaments and tendons work together to allow for all manner of oral function as the jaw moves up and down, front to back and from side to side. Containing a shock-absorbing, soft disc that sits between the rounded condyles of both sides of the lower jaw and the corresponding concavities in the skull's temporal bone, the TMJ makes chewing, speaking, yawning and all jaw movements possible.
Since the TMJ is a joint with both up and down hinge-like movements, as well as side to side and front to back sliding motions to perform, it is often considered one of the most complicated joints in the body and one of the most difficult to treat when problems arise.
Types and Symptoms of TMJ Disorders
TMJ disorders can fall into one or more of the following three categories:
Myofascial pain- Refers to pain in the area of the jaw joint due to various causes of increased muscle tension and spasm

Internal derangement-Involves displacement of the disc, jaw dislocation or trauma to the condyles of the jaw

Degenerative joint disease -Arthritis
The risk for developing a TMJ problem is greater in the presence of long-term teeth grinding or bruxism, a jaw injury or various types of arthritis such as rheumatoid arthritis and osteoarthritis. Furthermore, the manifestations of a TMJ disorder can vary from person to person with a wide range of symptoms possible, including earaches, ringing in the ears (tinnitus), headaches, back and neck pain, vertigo, muscle spasms and joint tenderness as well as jaw pain, popping or grating sounds with jaw movement, jaw locking and limited jaw movement. For some people a TMJ disorder can be resolved within a relatively short period of time, while for others it will continue to persist despite extensive therapy.

Diagnosis and Treatment
When evaluating for the presence of a TMJ disorder, the dentist will perform a thorough clinical assessment of joint symptoms and function. Special radiographic imaging and other diagnostic tests will be ordered as needed. The treatment of a TMJ disorder may include oral appliances such as night guards or stabilization splints to alleviate strain on the joints. Other types of therapy may include steroid injections, occlusal adjustments as well as orthodontic or prosthodontic treatment to improve occlusion. In cases of persistent and serious TMJ problems, surgery may be recommended.
Methods of self-care can be helpful in alleviating some of the symptoms of a TMJ disorder. Patients are typically advised to eat soft foods, avoid extreme jaw movement such as wide yawning and gum chewing, to practice stress reduction and relaxation techniques and applying ice packs or moist heat as directed. If recommended, a patient should follow the dentist or therapist's instruction for gentle stretching exercises. The short-term use of over-the-counter, non-steroidal, anti-inflammatory drugs and pain medications may provide relief. If not the dentist or physician may prescribe stronger pain or anti-inflammatory drugs, muscle relaxants or anti-depressants.
Orthodontics
Invisalign®
What are the Benefits of Invisalign
Invisalign aligners are virtually invisible and a more comfortable, hygienic alternative to traditional metal braces. What we find is that many of our patients, who have been reluctant to consider Orthodontic treatment via traditional braces are now comfortably and confidently improving their smiles.
Does Invisalign Work?
When treated by Picture Perfect Smiles' orthodontic specialist, Dr. Sinha, your Little Falls Invisalign Orthodontist, the performance of Invisalign is indistinguishable from regular braces.
Cost of Invisalign Treatment
The cost of treatment depends on the complexity of your case and the length of treatment The details of your dental or orthodontic insurance will also affect the cost. Many insurance plans cover a portion of the costs. Most providers also offer payment plans. The cost of Invisalign in Little Falls, NJ is very competitive due to healthy competition, which is good for consumers.
Why Choose Us?
Picture Perfect Smile and Dr. Sinha specialize in Invisalign orthodontic treatment. Patients in Little Falls and the neighboring communities seek out our expertise and experience in providing the best orthodontic treatment.
Schedule Your Consultation Today
Choose only the best Invisalign certified expert for your orthodontic needs in Little Falls NJ, Cedar Grove, North Caldwell, West Caldwell, Totowa, Wayne, Woodland Park, and Lincoln Park. Call (973) 256-2222 or Contact Us for your orthodontic consultation.
Orthodontics
Your Little Falls, NJ Orthodontist, Dr. Sinha, has years of experience with braces
There are various types available to choose from. Read below to find out what is available today. Make sure to talk to one of our orthodontic professionals to find out which braces are the right fit for you. Call or make an appointment today for a consultation.
The type you get depends on a number of factors:
The severity of your condition
The recommendation of your orthodontist
How much you are willing to pay
How long you will be in braces
Your own personal preference
Ceramic Braces:
These are made of very strong materials and are very similar to metal braces. The brackets are tooth colored and are nearly as strong as metal and can be used to treat nearly all cases.
Ceramic braces are a solution for adults who are looking for orthodontic solutions that blend in with the teeth and aren't as evident as metal braces. Patients also report less irritation of the gums when compared to metal braces.
The ligatures (tiny rubber bands) that hold the arch wire on to the ceramic brackets are often white or clear. One downside is that the ligatures stain over time and can become more noticeable.
Treatment is usually more expensive than metal braces and it can take a bit longer. Schedule a consultation to find out if Ceramic braces are your orthodontic solution.
Metal Braces:
Metal braces are made of metal brackets along with an elastic rubber band called a ligature to hold the wire onto the bracket. These types of braces are very strong and can withstand most types of treatment. They also tend to be the most inexpensive and can treat the most severe cases. These types also tend to have the least amount of treatment time when compared with other orthodontic solutions.
Some of the drawback to having metal braces is that they cause irritation to the cheeks and gum but patients often adjust to the feelings after a few weeks. This type can be a solution to nearly all patients who need braces. Schedule an appointment with our orthodontist to find out more about metal braces today.
Self-ligating Braces:
Self-ligating braces are metal braces without the elastic ligature. Using a "trap door" technology, the brackets allow the wire to slide back and forth resulting in fewer adjustments and less appointments. Schedule a consultation to find out if self-ligating braces are right for you.
Lingual Braces:
With Lingual Braces, the brackets are placed behind the teeth and are virtually invisible to others and are most commonly made of metal.
Patients report irritation to the tongue along with an initial adjustment to speaking. Lingual braces may not be for patients in need of severe orthodontic treatment. Schedule a consultation to find out if lingual braces are your orthodontic solution.
Schedule Your Orthodontic Consultation Today
Your Little Falls, NJ Dentists specializes in braces for the areas of Little Falls, Cedar Grove, North Caldwell, West Caldwell, Totowa, Wayne, Woodland Park and Lincoln Park. Call 973-256-2222 or Contact Us for an appointment.
Pediatric Dentistry
Special Needs
At Picture Perfect Smile, we provide Kids Dental Services, we believe that all children, irrespective of disorder or disability, deserve a compassionate environment and doctors that are trained to address their unique requirements. As a parent of a child with special needs, you can bring your child to our office and feel secure in the knowledge that they are welcome and will receive the highest standard of care.
Check-Ups
You probably know that the American Academy of Pediatric Dentistry recommends that you get a check-up every six months in order prevent cavities and other dental problems, but did you know that the same goes for your child? That's right: children need to head to the Dentist just as often as you do.
Fillings
If your child has a cavity, a filling may be the best way to ensure that the damage doesn't get any worse. At PPS Kids, we use aesthetically pleasing, tooth-colored plastic called composite fillings to repair the surfaces of teeth. Not old-fashioned silver fillings. Not only are these better looking, they're also better for your child since they don't contain mercury and you don't have to remove as much tooth structure to hold the composite filling in place.
Crowns
Crowns are used to restore tooth structure on a tooth that has had some of its soft tissue removed in order to stop an infection (a pulpotomy). Crowns are also used on a tooth that has too many surfaces of decay to be restored with a filling.
Extractions
Periodontics
Gingivitis
Gum disease, is the process that begins when bacterial growth in your mouth begins to lead to the corrosion of your teeth and gums. If left untreated, long-term effects include extensive gum deterioration, along with early tooth loss.
There are two stages in gum disease of which include: gingivitis (gum inflammation) followed by periodontitis (gum disease). Within the stages of gingivitis, the bacteria in hardened plaque pockets build up causing the gums to become irritated and swell. When brushing your gums may appear red or may bleed easily. Despite gum irritation, the roots of your teeth are still firmly in their place.
If left untreated, gingivitis can progress into periodontitis. During this process, the gums begin to pull away from the tooth creating pockets where bacteria can collect and spread. Toxins produced by the bacteria, along with enzymes present in your body's natural defense of infections, begin to eat at the bone and tissue that anchor your tooth. As the process continues, the corrosion spreads and more gum tissue and bone are damaged. When this happens, teeth are no longer anchored in place, thus resulting in permanent tooth loss.
While tartar buildup is the leading cause of gum disease, there are additional contributing factors. Some of these include: illnesses that affect the immune system (HIV, diabetes), poor lifestyle habits such as smoking or a diet high in sugar, poor oral hygiene habits or a family history of periodontal disease.
Some symptoms of gum disease include:
Gums that are susceptible to bleeding
Red, swollen, or tender gums
Persistent bad breath (halitosis)
A receding gum line
Loose or shifting teeth
Some progression of gum disease may be present in your gums despite not having any symptoms. This is a reason why regular dental check ups are important in the prevention and treatment of gum disease. Only a dentist or periodontist will be able to recognize symptoms of gum disease.
Crown Lengthening
Crown lengthening is a periodontal procedure that can be performed for restorative or cosmetic purposes. If you have asked your dentist on how to improve a "gummy" smile, crown lengthening may be the solution. Your teeth may be the proper length but are covered by too much gum tissue. During crown lengthening, excess gum tissue is removed and the bone is reshaped to expose more of the tooth structure resulting in a broader smile.
In restorative cases, crown lengthening is performed when a tooth needs to be restored and there is not enough naturally exposed tooth structure to support the procedure. In these cases, the tooth may be broken below the gum line or have extensive decay lacking the support a crown or a bridge needs. Only after more of the tooth is exposed, will your Little Falls, NJ Periodontist be able to perform a reinforced restoration. In either case, crown lengthening improves both the look and functionality of your teeth, giving you a confident smile that lasts.
Bone Graft
Bone grafting is the replacement of jaw bone loss due to injury or gum disease. Often times, if a tooth is missing, the associated bone will be reabsorbed into the body. In these cases, the corrupted quality and lack of available bone structure makes the addition of dental implants difficult.
Current technology enables us to restore lost bone when necessary. It performs the dual service of allowing us to restore functionality while, improving the overall appearance of your teeth so you can smile with confidence.
Bone cells are taken from a tissue bank or from your own body from areas such as the jaw, hip or below your knee. In some cases a special layer is used to assist the development of the bone cells. This process is called guided bone regeneration.
Your Little Falls, NJ Dentists specializes in periodontal therapy for the areas of Little Falls, Cedar Grove, North Caldwell, West Caldwell, Totowa, Wayne, Woodland Park and Lincoln Park. Call 973-256-2222 or Contact Us for an appointment.